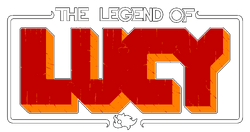 The Legend of Lucy
(formerly just Lucy) is an ongoing action/adventure webcomic series by
Dylan Durmeier
.  In 2010, the original run of Lucy debuted on DrunkDuck.com. It ran for 16 pages before eventually being cancelled. Two years later, a new version of Lucy debuted on October 30, 2012 on a self-hosted website, and has been running in a sporadic rate of updates ever since.
Story Arcs (by order of release)
Edit
External Links
Edit
Ad blocker interference detected!
Wikia is a free-to-use site that makes money from advertising. We have a modified experience for viewers using ad blockers

Wikia is not accessible if you've made further modifications. Remove the custom ad blocker rule(s) and the page will load as expected.