Rachel Giallo is one of the four villians featured in Hog Hunt, though her first appearance was in a cameo in Order of the Scale. She was created as a contest entry by Jared Cheryba.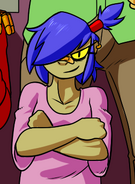 The only child of Frank Giallo, an eccentric billionaire, Rachel was brought up to be the sole heir of the elusive Black Island, a resort island turned criminal sanctuary. Despite the chaotic background in which she lived, she was very well protected and nurtured by her father, who always encouraged her to have fun and be creative. When she became an adult, she gained ownership of the island and continued in her father's footsteps. In 2 BCS, a massive raid took place on the Black Island, and many of it's inhabitants were either killed or taken into custody. Rachel herself was captured by Lucy, and she was put into a maximum security prison camp in the Son Republic. Two years later, she and a group of fellow prisoners escaped, and reclaimed Rachel's airship. Having heard about Lucy's battle in the Koru't Islands, Rachel set off towards the islands to possibly take the islands and their riches for herself, while, more importantly, getting her revenge on Lucy. Having failed this, she is once again taken to prison.
Personality
Edit
Despite her love of personal freedom, Rachel can be quite manipulative at times. She feels that she should be free to do whatever comes to her mind, and when she sets her mind on something, she stops at nothing to attain what she wants, even if it means breaking the law. She fancies herself an artist, often scribbling many crude drawings over whatever she would happen to have on hand.
Firearms of all types
Drawing
The color Red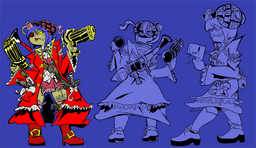 Name:Rachel Catherine, but known by(everyone) as The Aurelian Arsenal (generally goes by Arsenal, most likely goes by Arse in Lucy's eyes *shot*) Age: 26 Gender: Female Weight:145 lbs Height:5'9" Species: Hooman (ohgosh a human oh noes) Weapons of Choice: guns,guns,GUNS, more guns. Her particular favorites being her gold-plated Gatling Pistols
Bio: Rachel's past, like most Pirate Captains, is shrouded in mystery. But all of the tales of her origin lead back to one thing. GUNS. She was known infamously for her love of guns. If she wasn't shooting a gun, she was looking for more guns to shoot. When she isn't shooting or looking for guns to shoot, she's looting GOLD to buy more guns to shoot. In fact, GOLD is the only thing she likes as much as guns, most likely because gold can bring her more guns. Legends tell she formed a crew with an equally passionate taste for guns, and they shot, looted, pillaged, and obtained the most fearsome arsenal known to man. UNTIL Their ship sank because it had too many guns. The only guns that survived with Rachel were the two Gatling Pistols she keeps at her side. These are her most treasured guns. Upset over the loss of her once-infamous Arsenal, Rachel wandered the earth, seeking a means to steal more guns and reform a new crew of vicious gunslingers.
Personality Traits: Hot-headed, obsessive over getting what she wants, if things don't go her way, she shoots stuff until it does. Arsenal hates swords, and most other blade-based weaponry. She thinks they require too much effort to master, why learn to battle a sword when you can simply blow them all up?
(This is the original bio of Rachel as written by her creator. It has no bearing over Lucy canon.)
Ad blocker interference detected!
Wikia is a free-to-use site that makes money from advertising. We have a modified experience for viewers using ad blockers

Wikia is not accessible if you've made further modifications. Remove the custom ad blocker rule(s) and the page will load as expected.